We carry out set-price fortnightly garden maintenance visits. These include a neat and striped grass cut/edge, hedges, planting, plant care (feeding, trimming/pruning etc) and chemical weed control. We also clean hard surfaces, clear leaves and debris and much more. If you need a garden tidy up this may be possible depending on the time of year. If not, then we may be able to offer a more basic visit for the growing season and get to work on the heavy stuff in the late autumn or winter.
These visits generally run fortnightly from March to November, and monthly December to February. All gardens we work in are treated as if they were our own, and we maintain a professional and trustworthy presence at all times.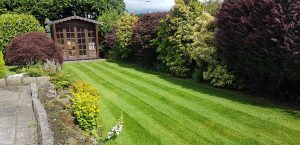 Some of the first people who called on our services in 2009 still use us today, and we continue to be recommended to look after gardens belonging to customer's families and friends.