How often do you cut the grass?
For a Glasgow lawn care business the season can vary significantly from year to year. Most of our jobs are fortnightly cuts from March to November. The higher quality lawns are cut weekly. The start and end dates are flexible and set to suit the weather and growth.

Are the weed killers you use safe for dogs?
We use glyphosate on most weeds around hard areas. This is safe once dry, so we would recommend dogs are not allowed to wander onto wet areas of spray. The same applies to our selective weed control for lawns.
When do you prune shrubs?
We continually monitor the shrub beds and will cut them if they need it, although we do a standard autumn and spring trim. Shrubs that need more care are pruned by hand, others (such as cornus) will get a standard height trim annually to encourage fresh growth every year. We trim shrubs at the correct time of year to ensure the best results which means there is no broadcast trimming being carried out.
How do you take payment?
We can take payment by cash, cheque, bank transfer, paypal or direct debit. We can leave a paper invoice or email after each visit, or set up an annual price to be paid in equal monthly installments.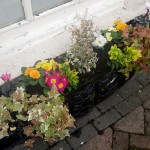 Can you supply plants?
We have access to Scotland's largest trade nursery, with a wonderful range of plants and supplies. Dan Frazer Gardening can arrange selection,delivery and planting of plants at a competitive price.
I was going to call a lawn company to scarify the lawn, do you do this?
We have an in-depth understanding of grass and lawns and supply the full range of lawn care services. We feel  we offer a far better service than national companies. Our scarifying service, for example, involves passing over the lawn in 3 directions and removing all waste, whereas the main lawn care franchise does neither of these (picture driveways lined with bin bags full of moss!).
As a caring independent Glasgow lawn care service there are NO shortcuts taken, no cheap materials or unsuitable fertilisers used and we only use professional, well-maintained  machinery.
Do you need access to an electrical plug when you visit?
No. All our professional equipment is petrol-driven. Do we need to be home when you visit? No, as long as we have access to the garden we can continue as normal.
How much do you charge per hour?
We give a set price per visit/task and do not charge per hour. Our clients appreciate knowing exactly what they will be paying each visit, and they understand we arrive on site, work hard and use the proper equipment to do an efficient and thorough job. We offer very good value for money and will not sacrifice the quality of our work for an early finish.
Do you know a tree surgeon?
We are qualified and insured to carry out tree work and will be happy to provide quotes for a wide range of jobs.