Are you looking for Lenzie's driveway cleaning and pressure washing expert?
Covering areas such as Kirkintilloch, Bishopbriggs, Bearsden and Woodilee Village. Dan Frazer Gardening uses industry-leading methods and is fully insured.
Do you want your front wall to gleam, driveway freshened up or bungalow roof looking like new? Dan Frazer Gardening is capable of producing the results you expect.
Using professional products approved by the UK HSE for use for exterior surfaces, Dan Frazer Gardening will only use the most appropriate method for your surfaces.
Too many people just pressure wash everything. This can damage walls and surrounding areas. It can even encourage moss and algae to regrow faster than ever before.
No matter how fragile the stonework (imagine sandstone that can be scratched with your fingernail) it can be cleaned.
Recent work includes driveway pressure washing in Lenzie, Bishopbriggs and Kirkintilloch. Also soft wash cleaning in Bearsden and Milngavie.
No shortcuts. No damage.
Another sample on this brick wall in Torrance (G64) demonstrating the power of our soft wash process. The brickwork has been coated with layers of slime mould, algae, lichens, moss and other organic growths for years. It needs a deep clean without the use of high pressure.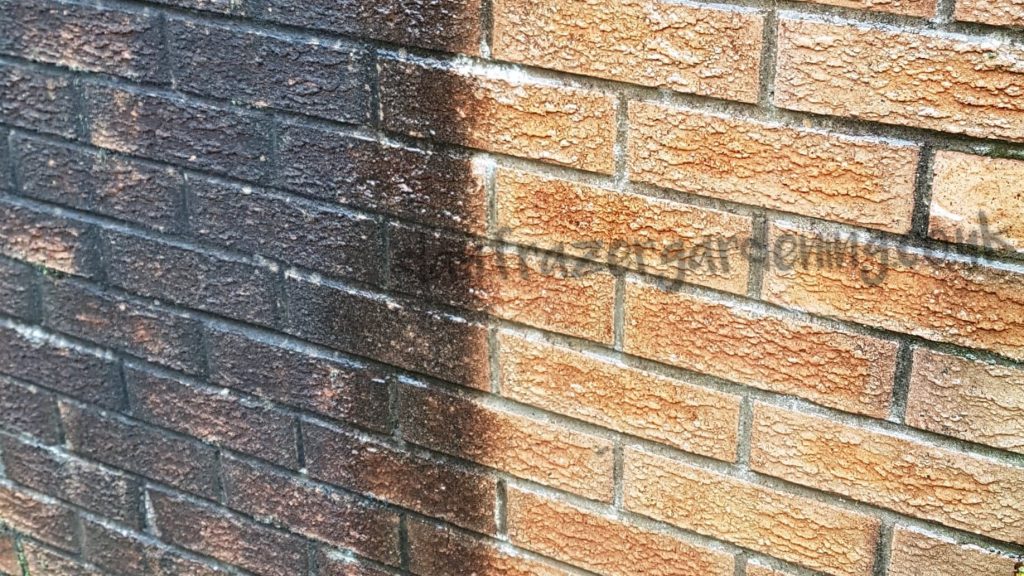 Garden path cleaning. These sandstone slabs were cleaned with stunning results. The client hasn't seen the flagstones around his house looking as clean as this.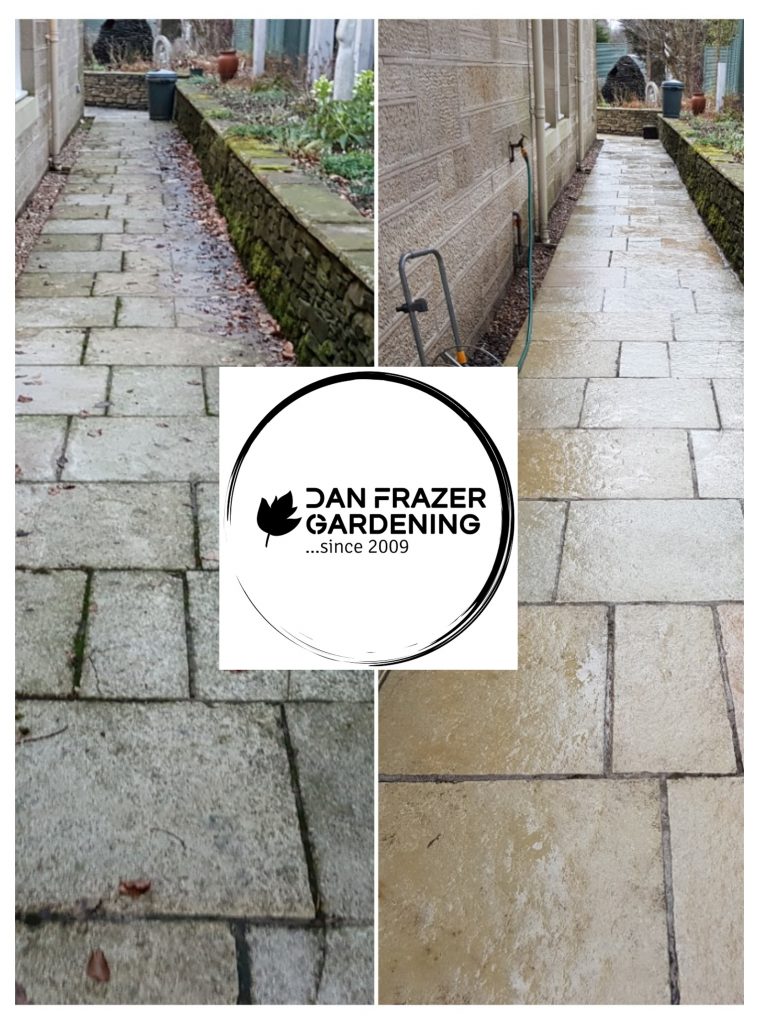 Sample sandstone clean in Milngavie to show the client the power of our cleaning. The chemicals used are only ever used in the correct setting and in an environmentally-safe way. Any slight risks to animals or people are highlighted and only short term while the products are freshly applied and active.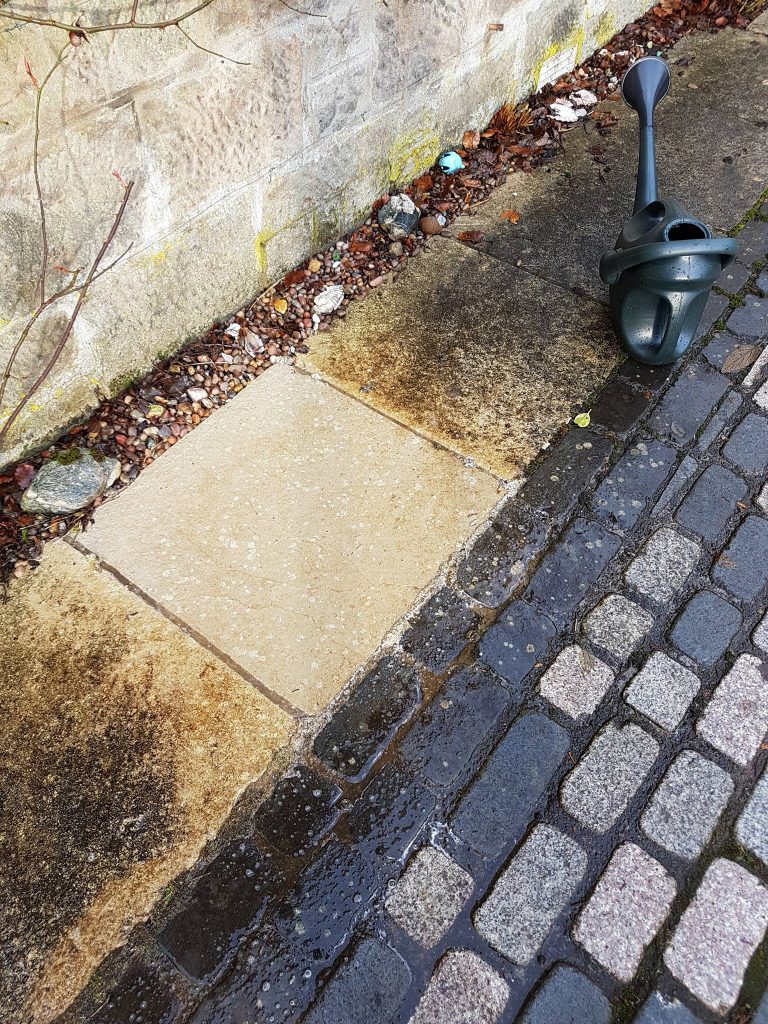 Re-sanding a driveway in Lenzie. The only way to carry out a professional clean on a monoblock driveway is to return and replace any lost joint material with suitable kiln dried sand. Dan Frazer Gardening can also offer long term and instant weed control treatments.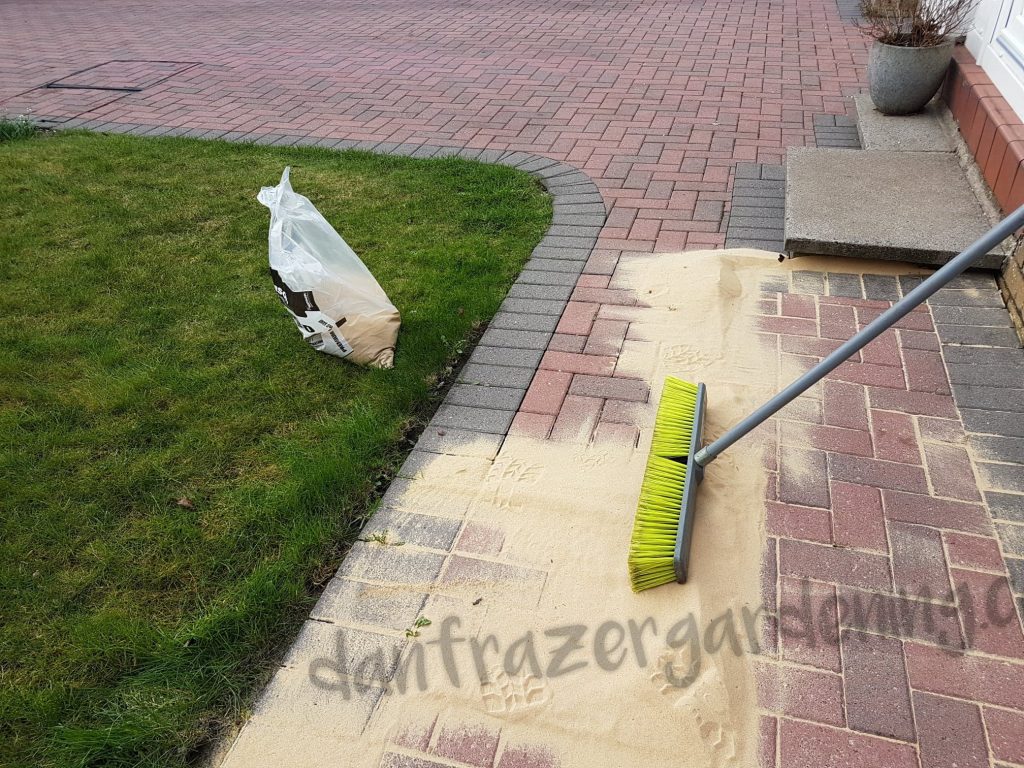 Bishopbriggs pressure washing
Lenzie pressure washing
Bishopbriggs driveway cleaning expert
Kirkintilloch Driveway cleaning
Kirkintilloch pressure washing
http://www.hse.gov.uk/pubns/guidance/oce19.pdf
Chapter 5: The Legal Requirements of Starting a Cleaning Business