Dan Frazer Gardening offers annual lawn treatment plans that include the elements we feel your lawn requires. There is no one size fits all approach, as offered by lawn franchise companies.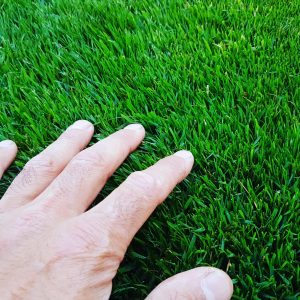 Our fertilisers are NOT just high boosts of Nitrogen. We buy in professional balanced feeds that vary in composition so we can pick out whatever is needed for your lawn and the time of year. The focus here is on long term health, where the lawns are treated to look good all year and grow properly from the roots up.

Lawn feed
We apply feed carefully in the correctly-measured quantity. Our products are the same ones used by top end golf courses, cricket and football clubs all over Scotland.
Mechanical lawn treatments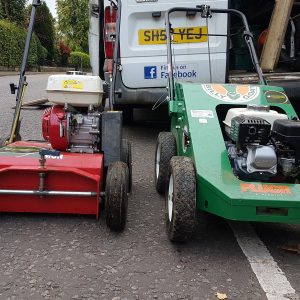 We use quality professional equipment and carry out both aeration and scarification at the correct times of year. Hollow core aeration is not always the best choice and other options are available. Your lawn needs to be able to recover from work and it will not do this if scarified on a frosty January morning!
The process of hollow tine aeration with collection of cores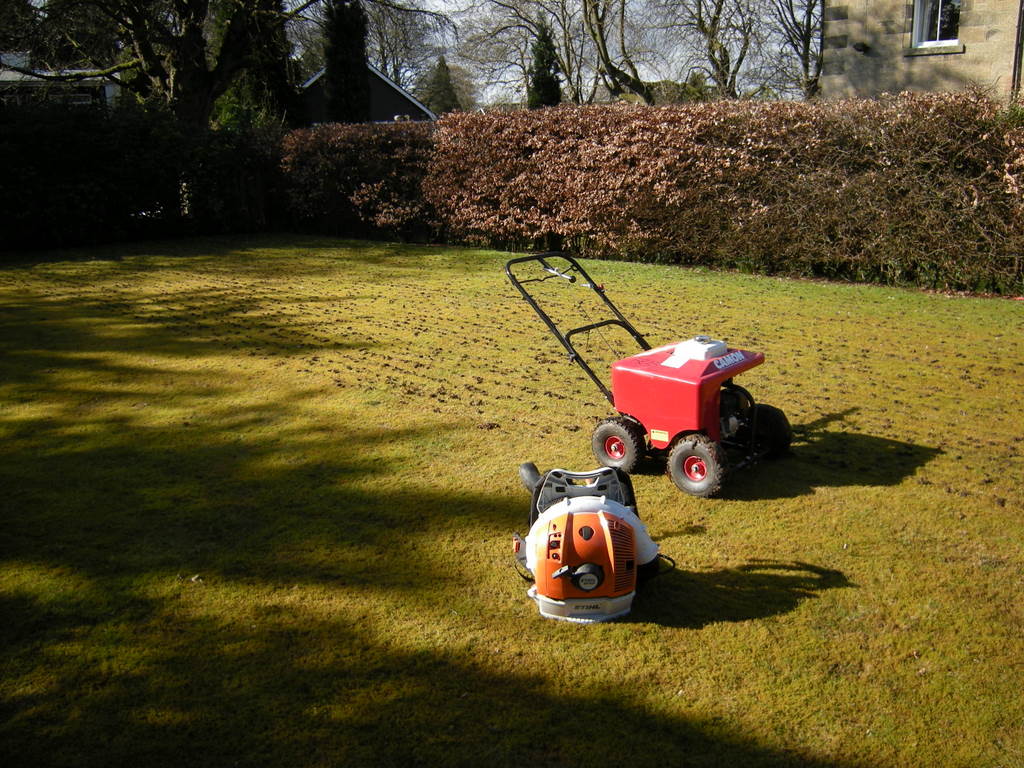 The benefits of aeration include:
improved transfer of rainwater to the roots
Air flow in the root zone increases which stimulates root growth
Roots use the edge of the core to travel further down and access damper soils
Compaction is relieved as the lawn expands to eventually fill the holes left
Reduced puddling on the surface
Note: We will always remove all soil cores from the lawn following hollow core aeration. To leave them on the lawn is defeating the purpose of removing them and simply acts to block sunlight from the growing grass and reduce the airflow and drainage benefits received by aerating.
Lawn during hollow tine aeration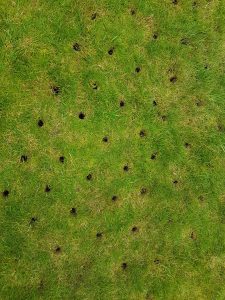 Weed control
There are many weeds that grow in lawns and almost all disrupt the appearance of the area. We can apply professional selective weed killers in liquid form. This gives a much more even coverage than using granular products branded 'weed and feed' so your lawn will be completely and evenly cleared of non-grass species.
Top dressing
If required we'll offer to include top dressing as part of the care plan. This material improves the soil surface over time, and allows new seed to bind to a soil substrate, greatly increasing germination rates
We carry out lawn care programmes in most of East Dunbartonshire including Lenzie, Kirkintilloch, Bishopbriggs, Bearsden, Torrance and Milngavie, and will also include surrounding areas such as Auchinloch, Kilsyth, Stepps and Robroyston. Most areas within the G66, G64, G61, G62 and G69 postcodes.
Lawn care, lawn aeration, hollow tine, Greenthumb, leatherjackets, bearsden lawn treatment, grass care, bowling green, Jim's Mowing, Camon, sports pitch, turf, Glasgow, Scotland.