September is a key month in the lawn care calendar, ideal for seeding, scarifying and aerating with good quick recovery.
We are busy working through customer's gardens. In Bearsden, our lawn care work has ranged from large level fine turf lawns, to 40 square metre corner gardens on a slope. In Lenzie there are a range of lawns, usually on flatter ground, with their own issues such as poor drainage or heavy shading from trees. We have the right equipment to cope with it all however, from bowling green to kids play area.
This photo was from a heavy scarify lawn treatment in Lenzie. A few gardens have seen a built up of a thin compact layer of thatch that goes black and extremely slippery. The best course of treatment for this is to thoroughly rake it all out, aerate the soil to help prevent it happening again and restart the lawn with a good coat of fresh seed.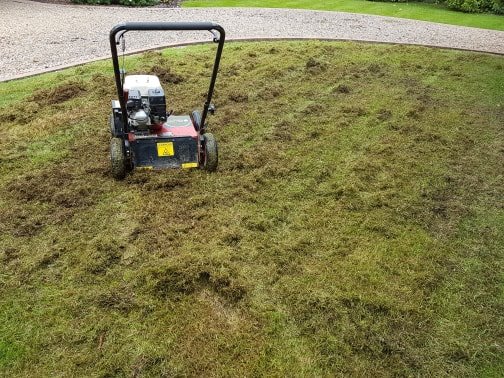 Every step of our lawn treatments are designed to work as well as possible. There are no shortcuts taken and each lawn gets a custom-made package.
As well as lawns, we are gearing up for the autumn garden maintenance work and have invested heavily in additional professional tripod ladders from Henchman, at https://www.henchman.co.uk/products/platform-tripod-ladders.html  Our work on hedge trims aims to cut clean neat edges and lines, to the correct depth without going into dead wood. Trimmers are kept clean and sharp, and a thorough clearup is always included. With autumn gardens and lawn treatments, it's the busiest time of the year.
Follow us on instagram @g66lawncare